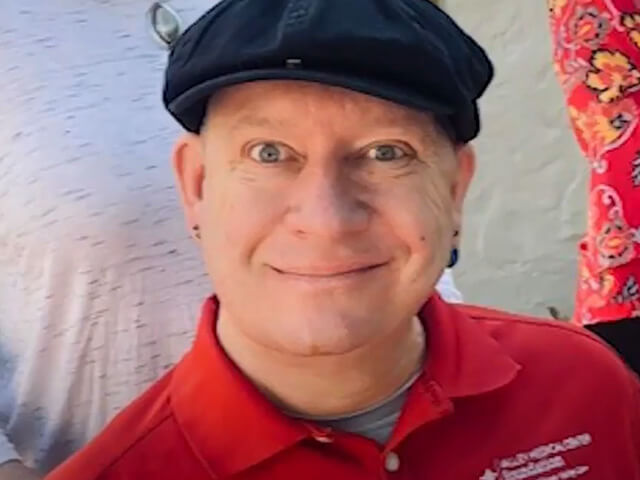 TYPE OF STROKE: HEMORRHAGIC
One night in March of 2021, Chris and Kate Wilder's life took on a new path.  As Chris got up to get something to drink, and he walked back across the living room to sit down next to his wife, Kate, she looked over at him, and noticed that the right side of his face had drooped. She then asked Chris to raise both his arms.  Only one could lift and go upward.  Kate immediately thought to herself, "oh no, Chris is having a stroke!"  Kate responded F.A.S.T., and called 911, a move that saved his life.

Chris arrived at the hospital quickly, even still, quite a bit of damage had been done, and the doctors had to remove a portion of his brain.  They warned Kate that Chris will most likely not just lose the ability to walk, but to even communicate.  Knowing what his life was like before the stroke, this prognosis didn't seem possible.  Prior to the stroke, Chris was the Executive Director of the Valley Medical Center Foundation for close to 20 years.  His amazing gift to help communicate the vision and strategy to the business community of Silicon Valley resulted in raising tens of millions of dollars to help hospital patients.  Chris didn't stop there, he also loved to communicate through music and formed a band of Valley Medical Staff members, and Chris was the bass guitar player. The band performed for free whenever a charity needed them.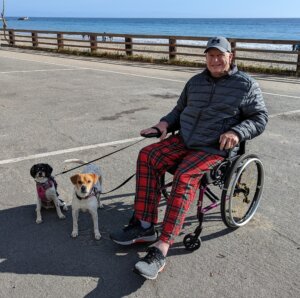 Chris remembered the day he woke up in the hospital. "It was a Sunday morning, and I realized something bad had happened to me."  I didn't know exactly what it was, but when I became aware of what actually happened, my first thought was… "Well, I guess I will not be playing golf or music for a while."  Chris has not given up on those passions, as he recently performed with a colleague for some recent stroke survivors at the hospital, even though he could only play with one hand.  His days are primarily focused on aggressively working on his therapy and rehabilitation.  Chris and Kate are exploring every type of stroke rehabilitation therapy they can uncover and are participating in a combination of therapies each day to push forward his level of healing.
Kate is balancing life with being Chris's coach, advocate, and caregiver along with her professional career in the Silicon Valley Tech Industry.  She is managing a team of technical architects that are designing implementations of sophisticated software that is the backbone of most large companies worldwide.  Chris has progressed extremely well, and his communication and conversation skills have returned to a level that even surprises his doctors.  Additionally, he has progressed to walking with a cane, and has seen his endurance and stamina constantly getting better as he relentlessly pushes forward with his aggressive therapy schedule.   When they both take a pause from their new life journey, they enjoy time in their community of Los Gatos in Northern California.  They also have a Pinot Noir vineyard at their home and enjoy the fruit of their land with a glass of wine after a hard day of therapy and technology.  Both Chris and Kate are hard-wired to give back and make the world a better place no matter what challenges they face in life.  Chris has just joined the Board of Directors at the Stroke Awareness Foundation, and both Chris and Kate, are the Keynote Speakers at Champion the Challenges', Golf 4 Life Event, September 14, 2022 at the Los Lagos Golf Course.
Chris and Kate were recently featured on NBC Bay Area News with Garvin Thomas and you can watch the interview here.
Chris and Kate are an inspiring couple that are an example of how to Champion the Challenges of life after a stroke, together.